Check Availability
Find in-stock Samsung Galaxy A6 devices in Sprint stores near you.
Please enter your location below or let us auto-locate you.
Samsung Galaxy A6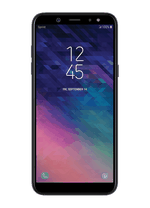 The Samsung Galaxy A6's sleek, metal design fits naturally in your hand and your pocket. Its immersive 5.6" Super AMOLED Infinity Display delivers an entertaining big-screen view, while the 16MP front and back cameras allow … Buy Online
Price may vary based on credit and location
Use the prompt above to enter your location. You will be able to select a store to book an appointment, get directions and arrange to pick up the item in store!
Buy Samsung Galaxy A6 Online